Murrieta Welcomes You
Incorporated in 1991, the City of Murrieta is located in Southwest Riverside County 60 miles north of Downtown San Diego and 75 miles east of Downtown Los Angeles. Situated at the confluence of Interstates 15 & 215, Murrieta makes sense for your business. Our city government is focused on fostering entrepreneurs and businesses of all sizes and industries. The Murrieta Innovation Center is currently home to seven medical technology startups including the regions first genomics laboratory aptly named Murrieta Genomics. The Economic Development Department works closely with the city's Development Services Department, which is committed to growing businesses and the safe development of buildings and infrastructure through the enforcement of the city's building code and other applicable city codes and ordinances.
Murrieta is home to a diverse population of workers and employers and the Economic Development Department here at the city is committed to continue to have a qualified workforce that attracts, retains and expands industries, and enhances the quality of life for residents in the City of Murrieta. Our city lies 90 miles north of the U.S. – Mexico Port of Entry of Tijuana Mexico, 90 Miles from the busiest U.S Seaport, the Port of Los Angeles and 16 international airports (Ontario, San Diego, Orange County and Los Angeles LAX) all lie less than 75 miles away. Offering a strong economy built on diversification, small business vitality and quality of life Murrieta is proud to be the city in the middle of it all!
About Murrieta
Welcome to Murrieta California! Our city is well known for its strong sense of community. We are home to Murrieta Valley Unified School District one of only 22 exemplary rated school districts in the state of California and thanks to our outstanding Murrieta Police and Fire departments we are ranked as the second safest city in the U.S according to the FBI. Our city boasts over 50 parks and easy access to the 9000 acre Santa Rosa Plateau Ecological Preserve. Add great shopping, unique dining experiences and world-class entertainment and it's easy to recognize, that Murrieta makes sense!
Murrieta Brochure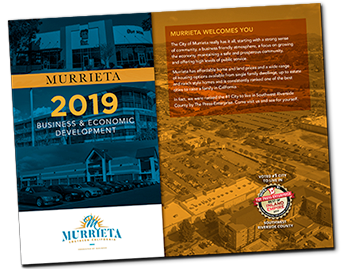 Download our
Business & Economic Development Brochure
here
.
Resource Links